Where I Live:
I live in
West Salem, WI
. It's a lovely, growing community at a little above 5,000 people living here. We are near a bustling college town called
La Crosse
. One of my absolute favorite things to do in La Crosse is go to the coffee houses there! I am a coffee
ADDICT
! There was a study done that if you drink a certain amount of coffee per day that your chance of Alzheimer's goes way, way down.
Bonus!
Back to West Salem-
we have several historic houses
- one is the Garland Homestead and another is The Octogon House, (yes, it has eight sides! UNIQUE!). We have a wonderful lake called
Lake Neshonoc
that's the perfect temperature in the summer to swim in! :) I love it here- my family lives here, too...
What I Do, Aside From Polymer Clay:
I do a wide variety of things other than polymer clay. One of my favorites is beading, one bead at a time! It's very therapeutic! I also play with my cats, spend WAY too much time on the computer, do important moderator stuff on
BeadSwap-USA
(
I run the polymer clay traveling box there! Ask me for details!
), I read a TON, go to coffee houses (duh!), enjoy a wide variety of musical performaces (my brother-in-law is in a band called
Idle Ecstatic
! and I just ADORE all sorts of music), I scrapbook, make cards, do random papercrafts, make altered art jewelry/steampunk jewelry/bead weave/loom work/etc etc etc.
Did I mention I spend way too much time on the computer
? LOL! I also do photography.
My Dream Jobs:
I wanted to be two things when I was little- a veterinarian, or an
ARTIST
. I succeeded with the latter. ;) I don't think I could stomach being a vet, I would probably end up crying every day over the sick animals. Actually, I know that's exactly what would happen! Makes me glad that I found an outlet as my other dream job!
Something Most People Don't Know:
One thing many people don't know about me is that I was published in a book!
It's called "Rubbish" and it's by Kate Shoup.
She kindly asked me for a tutorial on how to make my upcycled brooches, and I happily complied! I don't widely advertise that fact. But hey, now you know! ;)
My Simplified Story With Polymer Clay:
I first played with polymer clay waaaaaaaay back in 1999. I'll show you a picture of my very first attempt, I promise! I took a LONG break, and picked up polymer clay again in 2008 or 2007... and I've been going strong ever since! It's a wonderful medium, and I love it.
My first pendant. I'm sorry the picture is so dark! It's an amethyst stone wrapped in polymer clay. See, even then I was trying to "set" stones in polymer! LOL!
My first bead- it's not too bad! Mostly round with a hole through the middle, yup, a bead! LOL!
My Favorite Technique:
My favorite polymer clay technique... well, jeez. I don't know! I love to set stuff into polymer clay. Does that count as a technique? ;) My favorite is making custom bezels for oven-safe gemstones, (which just happens to be most of them!
Don't bake opals, though!!!
).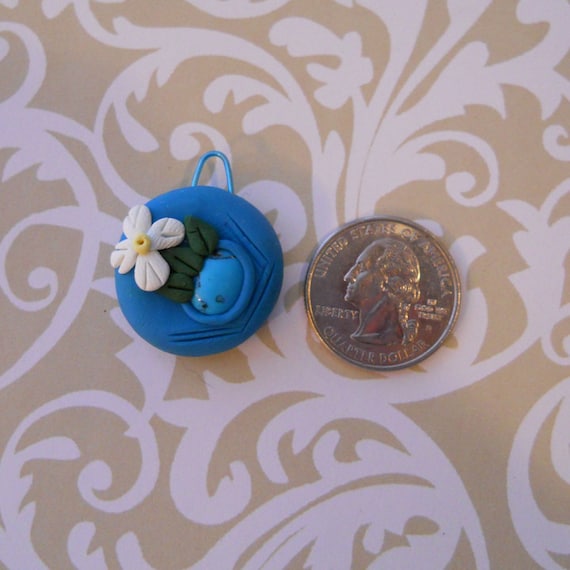 Inspired By:
Inspiration? Living life, I suppose! I look at a LOT of jewelry and polymer clay designs every day. I came up with my own designs on my own, though. I adore originality. There's tons of room for that in jewelry making and polymer clay! Actually, there are infinite design possibilities! :D
Some Of My Work:
Here are a couple of polymer clay hearts I made and set with various crystals and stones, (I'll specify what kinds in the captions!)... I donated these to a friend's auction:
Aventurine cabochon and Swarovski crystals set in a marbled polymer clay mix hand-conditioned by me!
Swarovski crystals set in marbled polymer clay hand-conditioned by me! I formed each flower petal by hand. The larger round crystal is VINTAGE- a real find!
You can find even more polymer clay designs of mine in my Etsy shop, HERE
. Lots of hearts! Some cool discs, flowers! Wheee!
And My Question From a Member of the Polymer Clay Collective:
Do you buy or make your own tools?
I use my fingers A LOT. In fact, for most stuff I use my fingers. :) Aside from that, I use bamboo skewers and toothpicks, and a very sharp knife. Sometimes, I use polymer clay cookie cutter things for specific shapes or shapes that need *clean cut edges*. Oh! To answer your question more specifically, I guess I MacGyver it! ;)
And my question to the next victim (hehehehehe!)-->
What is your favorite polymer clay style to work in? :)
You can visit the Polymer Clay Collective by clicking HERE
. It's an awesome community of Polymer Clay Artists learning from each other!